FRVPLD BATTLE OF THE BANDS 2023
We are so excited to host our first ever Battle of the Bands! Join us for a fun musical event Saturday, August 12, 2023, from 1-3pm at the Dundee Library's Meeting Room (Lower Level). Three professionals will be joining us as our judges. 
THE JUDGES:
Justin Kellerman -- Touring musician and guitar instructor 
Professional musician, Justin Kellerman has been playing guitar for 19 years. His passion grows each day by teaching others and working on musical projects, such as Empyrean Sanctum, which he is the founding member and composer since 2008. Justin has been involved in musical projects featuring current or former members of Meshuggah, Scar Symmetry, Nocturnal Rites, Necrophagist, Alkaloid, Blotted Science, Triptykon, Obscura, Exist, Soulfly, Borknagar, Serenity, Pathosray, November's Doom, and The Skull.
Justin has big plans including releasing the second album for his project after 10 years, and growing his private guitar lessons. 
Music is a huge part of Justin's life and with his extensive creative background, he loves to share his musical knowledge with those who have the same love and passion for music. Justin welcomes all players from novice to advanced, and with his detailed hands-on approach, patience and positive nature, whatever your goals are, your musical journey will be an amazing one. 
Tyler Ford -- Owner of Park Street Recording Studio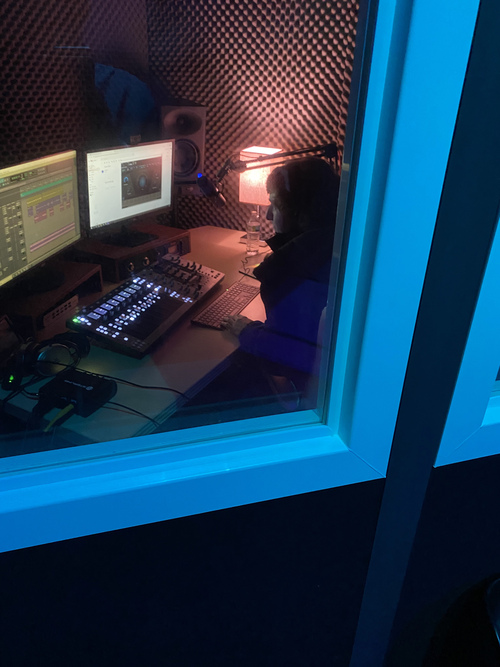 I've been a music lover since I was very little and a multi-instrumentalist for almost 10 years. After I graduated from Columbia College Chicago with a bachelor's degree in Audio Production, I started my own recording studio in Elgin, and I've had the honor to work with many very talented musicians and be a part of making their music come to life.
Gene Barish -- FRVPLD Music trivia host and music enthusiast
Since seeing Willie Nelson in concert back in the seventies, I have enjoyed a love of diverse music and especially seeing and hearing it performed live. While not a trained musician by any stretch of the imagination, I still have that respect and admiration for those musically gifted who can bring their thoughts and ideas to life for our enjoyment. I appreciate and have witnessed some great performances over the years, including being awestruck for 19 RUSH performances. I've enjoyed larger than life productions by diverse global talents like Elton John, Genesis, The Eagles, Scorpions, Iron Maiden, Harry Belafonte and Gloria Estefan to name a few. I look forward to using my "experienced" ear to hear all the great local talent at the Library's Battle of the Bands!
THE BANDS: 
Tranquil Ends is a father and daughter team: Afton and Darin. They have been making music for around 2 and a half years. With 3 albums under their belt, they have found a style that suits both of them. Their music could be put in several categories but at the same time is hard to pin down. You could call it dark, electro, synth pop. Afton writes most of the lyrics and melodies and Darin does all of the production as well as contributes lyrics and melodies. See you on the Tranquil Ends of reality.
Paradise Paradigm is an acoustic Indie Rock band formed in 2014. Life is a Paradise Paradigm. Paradigm seems like Paradise but break the Paradigm to create Paradise! It's like rock and roll, some people rock and some people play the role! Take a chance and roll the pair a' dice or rock with a pair a' dimes" 
A Random Drive
A Random Drive is a two-piece instrumental band creating cinematic sounds driven by explosive drumbeats and melodic bass lines. Since 2006 they have released three albums and perform in the Chicago-land area.
We are a crispy three-piece band from the Chicagoland, known as The Tragedies. The members of the band are Ed Tragic (guitarist/lead vocals), Rocky T. (bassist/back vocals), and Myke Tragic(drums/back vocals). We've played in several venues in the Chicagoland area as well as out of state. This year 2023, The Tragedies will become an international act with a scheduled gig in Ontario, Canada! Follow us on Youtube, Apple Music, Spotify, Facebook, Instagram, linktree, tiktok, and many more.
A long time ago in the early 2000s Montgomery Ward had it's going out of business sale, Shaun turned to Kurt and said if you buy that triangle we can form a band.  That band is Three Day Weekend.  Originally a studio band that would just capture lightning in a bottle by never practicing or refining a song but just making musical magic in the moment.  Three Day Weekend doesn't like to be pigeonholed.  They switch genres from rap to punk rock to repetitive anthems, all usually with a comedic leaning.  Though the body of work can best be categorized as part of Chicago's suburban Diaper Rock movement with bands like local scene favorite Appraisal.  Diaper Rock is about the de-evolution of music.  The core of Three Day Weekend is the duo of Shaun & Kurt.  Both are vocalists who don't play instruments outside of the occasional triangle.  Like Wu-Tang Clan, Three Day Weekend rolls deep with members from various other bands who can actually play instruments and read music.  Dan & Chandler from Early Autumn Station are two supremely talented musical dynamos who are joining for this battle of the bands like Gandalf at the turn of the tide.  We don't care if Sharif don't like it, Three Day Weekend rocks the Casbah.
Early Autumn Station has been rocking the living room since 2014. They just released a dual single: "ETs" and "Bonnie and Clyde." Add them to your playlist. Rock your kitchen. 
Soaking Up Sandcastles is an alt/punk band that formed in 2019. We are two friends having fun playing some bops. Add us to your show!
Tom - guitar and vox
Morgan - drums