The War that Saved my Life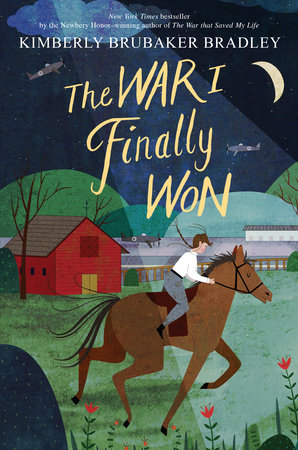 followed by
The War I Finally Won
by Kimberly Brubaker Bradley
        If you have a 10 to 12 year old daughter, Ihighly recommend these books.
When i read them I found myself cheering little Ada along. From the start of the first book through to the end of the second book.
These stories follow the life of brave 10 year old Ada Smith. Born with a clubfoot, Ada's mother is embarrassed and has literally imprisoned her her whole life. Ada must teach herself to walk so she can evacuate London at the start of WW2 with her younger brother Jamie. All the other children are being shipped to vthe countryside village of Kent. Once in Kent, it becomes apparent that Ada and Jamie are the runts of the liter when no family picks them to house. Forced to stay with Susan Smith, Susan makes it very clear in the beginning she knows nothing about caring for children.
       Together from here the oddest little family beginsto form. Little Ada is free to learn everything. How to ride a pony, read,make friends, walk with crutches and maybe some day without crutches. All of them are learning to face their many fears. Fears about the war, fears about who to trust, fears about whether or not to l
love each other. By the end of the first book it is clear the kids' mother doesn;t really want them but Susan can't live without them.
        The War I Finally Won begins with Ada getting surgery to  repair her clubfoot.  Does she dare to dream of being a normal child? To have Susan to love her and take care of Jamie and her? To be safe even with bombs going off around them? After their cabin was destroyed by bombs, their family has moved to a cottage on Lord and Lady Thorton's property. 
Ada's beloved pony Butter is there. All should be right in Ada's world, but with war that is never the case.The bombs have killed many of their family and fariends,including their mother.
The hardest blow for all comes when Johnathan Thorton is killed when his plane is shot down. In the end, Ada finds making herself useful and helping others is the best theropy of all.